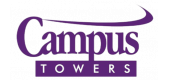 Resident Reviews
|Recommended: YesLove it here — I enjoy living here, the staff here is amazing it is almost if they know us all by name, seems as if you can never ask too many questions they are always open to helping residents in any way possible Mike is an amazing gentlemen every-time he sees me he speaks and asks how I am doing. Campus towers seems to really care for their residents.
|Recommended: No
An adequit close to school option — Being this close to campus without being in the stuffy boring dorms is a great change of pace and is really beneficial. Appliances and availability is definitely a reason to be at Campus towers. Although it is not a high quality apartment it is clearly meant for college students. Biggest flaw is that the 2 bedroom one bath apartment style has 1 of the bedrooms with no windows at all and just a door, almost certain this breaks fire code and demeanor of construction.
Stephen, Thank you so much for your review. While we are certain that the floor plan meets all codes by the city and state, we are actually looking to upgrade this floor plan to make it more comfortable for our residents! Please feel free to let us know if there are any other things that we can help you with!
|Recommended: YesPretty good — Pretty good but dated and in need of update.
|Recommended: YesIt has been a good experience living here. Very convenient — No parking means no parking. I paid a big fine when my friend dropped me off after school reopened after the hurricane last year, even though after my incident, Campus Towers allowed for drop offs literally minutes after my friend was booted . Very disappointed that I was not refunded. The office was very helpful at first but then the parking people claimed to know nothing of the incident- as if the office had never reached out them.
|Recommended: YesThe property is well-maintained and felt like home away from home. — I absolutely enjoyed my time living at Campus Towers. The staff were extremely helpful, the location of the apartments was great and I had a wonderful experience there.
|Recommended: No
Honestly, it's had its moments.... — There are times that I've liked living here but there are also times I haven't. There are also many things that are done that dont make sense. It's a great area with great staff, close to campus, and plenty of opportunities to meet your neighbors. Everything is included as well and you are right next to the Student Rec Center. Butter negatives, everything is done online, so you can't pay your rent with a check which is what I have always done . The main parking lot is like a roller coaster and you can only go one direction through the narrow pathway. Plus along with paying your rent if you want to park your car without getting booted, you have to pay for a parking spot as well. And you may get stuck not in the main lot where then you'll have to carry your groceries across the street. The walls aren't thin, but maybe I just had quite neighbors. The ceilings though.....totally different story. There is a no smoking policy which I love except for the fact that I can smell my surrounding neighbors smoking illegal substances every so often. Painting and cleaning the building to make it look nice for new residents requires half the main parking lot to be blocked off, which is extremely inconvenient, especially since we paid for those spots. And to top it off the price compared to some of the places around campus or Greenville in general....not so good.
Hello Mallory, Thank you so much for your review. We definitely want to take all of your concerns into consideration as our main priority is to make sure your living experience here is a good one. We do realize that moving forward to online pay can pose a bit of an inconvenience due to the fact that it is a different method than what you are used to. However, online pay will help resolve several issues such as lost checks, failing check scanners, etc. With online pay, it is a secure way to know that your payment is made on time and guarantees that it is accepted into our system. The main parking lot has been a bit of a challenge for all of us. It definitely takes some getting used to. However, we understand that sometimes you will need to park over here temporarily in order to unload groceries. Therefore, we have created a couple of spots designated specifically for loading and unloading. The construction has been inconvenient, but we chose to block of several spots in order to avoid damage to anyone's vehicles. Should you need to park in our main lot to unload groceries during construction, please feel free to let us know. You are absolutely correct about our no smoking policy. If you ever have suspicion about someone possibly smoking near your apartment, you are more than welcome to inform us via email, phone or visit to the leasing office so that we can handle the issue respectively. I hope that I have addressed all of your issues. If not, please feel free to reach out to me so that I can assist you! Thank you again for your review! Have a wonderful day!!! Michael Melvin Property Manager Campus Towers
|Recommended: No
It was ok — The location is very convenient. The staff is very helpful and well mannered. The building itself just needs some updating because its getting old.
Brittany thanking you for taking the time to leave your feedback. I were so glad to have you stay with us. This summer our building is getting those upgrades done both inside and out, and we are SUPER excited about it.
|Recommended: YesOverall good place to live — This is one of the most conveniently located apartments to ECU campus and downtown Greenville. The parking is cramped, but also in a prime location. The staff is great and very friendly and helpful. The biggest inconvenience is that laundry facilities are not in the apartment units.
|Recommended: Yes
Home Sweet Home — The location and convenience of Campus Towers to the ECU campus, dining and Fitness Center is a huge advantage. The staff is always helpful and timely with maintenance request.. i would certainly recommend Campus Towers as a friendly safe place to live.
We are so elated that you are enjoying your stay here! Our Management team is working hard every day to implement things that will continue to make you want to call Campus Towers home!!!
|Recommended: Yes
Close tocanpus — All bills paid
Yes, when we say "all inclusive" that's what we mean. You pay one bill and we pay the rest. Thanks for being a valuable part of Campus Towers.
|Recommended: Yes
Simply Fanatastic and a GREAT apartment complex — I really enjoyed staying with campus towers this year and I look forward to next year as well. The level of accommodation is very convenient and the personal, professional staff members make day to day life so easy I really appreciated how fast maintenance was in responding whenever I needed anything. The location on campus is second to none, being practically on campus is so nice, getting to class is fast and you do not have to get up early to be on time I Strongly recommend giving Campus Towers a try
Thank you so much for you awesome review. The staff here is so excited that you are enjoying your stay! We can't wait to make even more improvements here at Campus Towers to make your stay here even better!
|Recommended: No
Overall okay — Overall I feel safe in the building. Amenities are good and accessible. However, there is not enough washers dryers for everyone throughout the entire building. The staff is absolutely professional, helpful and kind. The location of Campus Towers is very good.
Thank you so much for your review! Our staff is constantly working to extend the best customer service by finding ways to make living here lovable! As a member of the Management Team here at Campus Towers I will use your feedback to see what we can do in the future as we are making renovations to improve the overall living experience here! Thank you so much for being a member of our community!
|Recommended: Yes
Great location to campus — The location of campus towers is excellent and the reason I decided to move here. The only downfall is they do not have a washer or dryer in the unit itself. But the location is worth having to go downstairs to wash your clothes
Thank you so much for your review! Your feedback about unit amenities is valued. As a member of the Management team here at Campus Towers, we are always open to making improvements that benefit you!
|Recommended: Yes
Outstandingly Convenient — The convenience of the location is absolutely outstanding and is without a doubt the closest apartment you will find to the ECU Main Campus. My favorite thing about Campus Towers is that you could have a party going on next door, and if you were in you're bedroom, you wouldn't hear it. Also, I stayed here during Hurricane Florence and felt really safe because of the sturdy concrete structure. If you want the closest option with the most convenience, the. Campus Towers is your best choice
Thank you so much for your review! It really means the world to our entire staff that you are enjoying Campus Towers. We are also so pleased to hear that you felt safe during Hurricane Florence. Our Property Management Team works diligently to make safety their TOP priority. We want all of our residents to feel like this is HOME and they can "weather any storm" here!
The views and opinions expressed herein are solely those of the original authors and other contributors. These views do not reflect the views of "Campus Towers", its owners, managers, agents, employees or content providers. No representation or warranty, express or implied, is made or given by "Campus Towers", its owners, managers, agents, employees or content providers regarding safety, accuracy, completeness or suitability of the information or material expressed herein for any particular purpose